The Project
The aim is to win the first ever race for electric planes in the history of aviation...

Pylon racing has existed since the mid 60s in Reno, thanks to the Reno Air Racing Association in collaboration with the American F1 association IF1 (International Formula 1 pylon air racing). Races have taken place in France since 1976 under the auspices of the APAF (association des pilotes d'avions de formules), and since 2014 Air Race 1 has organized pylon races for formula 1 planes worldwide, with or without spectators.
In 2019 the company Air Race E, with the official support from AIRBUS decided to create a new electric version of this mechanic and aeronautical sport.
Air Race E intends to organize the first pylon race for electric planes in 2020. The date and venue will be confirmed during the year.
The media are already talking about it ....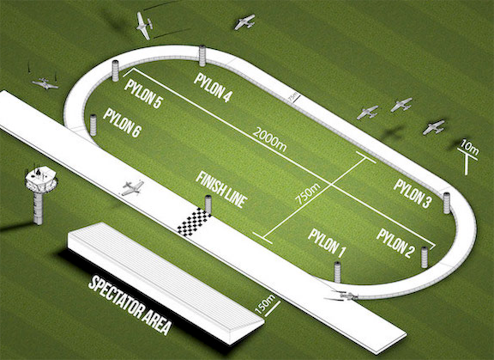 The principle of a pylon race

is simple. Generally the race consists of 3 rounds.
After a qualifying phase that determines the starting grid, the planes take off together to carry out a given number of laps ( a hexagon with a circumference of 5 kms).
In the case of a race with electric planes the plan is to do 5 (4 : depend du

reglement)

laps before seeing the chequered flag indicate the end of the round.
The plane (racer) that arrives first wins the round (unless it has been penalized for breaking the rules).
The principle is identical for the the following 2 rounds.
The starting grid for each round depends on the results of the preceding round.
Points are attributed to each plane according to its ranking in every round.
The plane with the most points at the end of the 3 rounds is the winner.

The project of the FRENCH E RACER team is to win the first ever pylon race for electric planes.
The project is an ambitious technological challenge but it is realistic, given the progress in the design of batteries, electric motors and the corresponding control systems. The aim is to show that this mechanical and aeronautical sport can evolve and become more environment-friendly without losing any of the suspense and excitement . It will be as spectacular as ever.
The plane that French E racer intends to build will also be a technological demonstration and a test platform for new elements in the architecture of the propulsion system.
Finally and most importantly, it is a human adventure that might leave its mark on the history of aviation.