Bruno ...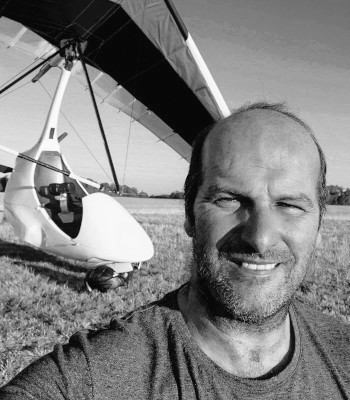 ... is one the the 5 founder members of French E-Racer and is the secretary.
He graduated from the Ecole Normale Supérieure de Cachan before becoming a Professeur Agrégé in Electronical Engineering and doing a doctorate in Nanomaterials and Laser optics. He teaches principally in the Institute of Technology of Chartres, but also in the school of polytechnical engineering in Orleans, and in ESTACA in Saint Quentin en Yvelines. Deeply interested in aeronautics, over the last ten years he has included many topics around electric traction in his teaching projects in the Institute of Technology of Chartres. Withon this framework he has built and flown many electric Ultra Light planes (Demoichelle, Pulma 2000, Aerostat, Mosquito...)
He is president of AILEC, an association that promotes electrically powered Ultra Light Planes.

He takes part regularly in aeronautical shows (the light aviation exhibition in Blois, the meeting of plane home building association, the Federation RSA).
At the RSA meeting in 2015 he was awarded the cup for innovative technology.
Of course he is a member of the RSA Federation.

He is married and has 3 daughters.